Farmers & Merchants Bank Announces New Lending Team In Santa Barbara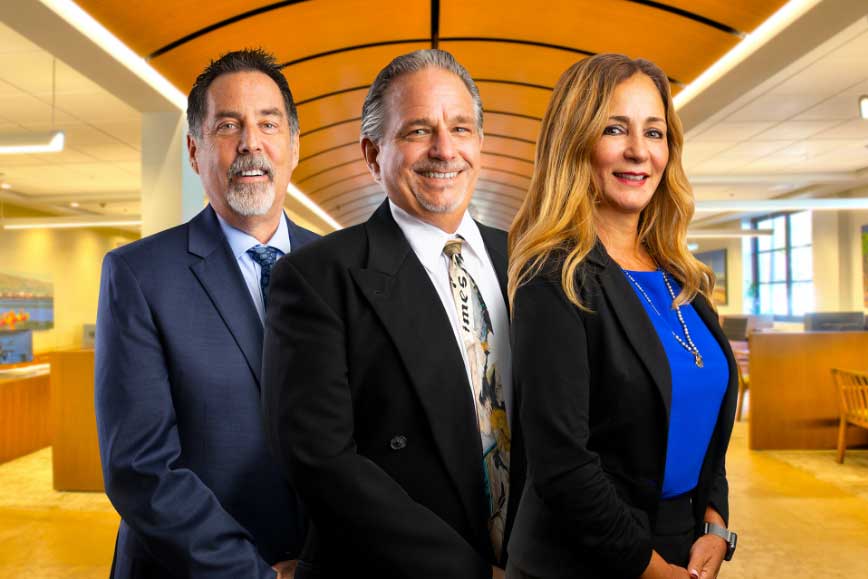 Pictured are Bill Nethercott, Deric Hamilton and Shahla Gholami.
LONG BEACH, CA (August 10, 2021) - Farmers & Merchants Bank (F&M Bank), a specialist in commercial banking and small business lending, recently announced the addition of a new Commercial Real Estate team at their Santa Barbara branch office. Led by Bill Nethercott, the team consisting of Shahla Gholami and Deric Hamilton will be responsible for generation, management and growth of new commercial real estate lending and deposit relationships.
Nethercott brings a strong background in community and commercial banking, including credit administration and executive management. He has over 38 years of experience in commercial banking, having most recently worked for Bank of the Sierra and First Bank. He also previously held President & CEO positions with two community banks based in Northern California.
Gholami, named Senior Vice President and Relationship Manager, has over 30 years of experience in commercial and retail banking, including C&I and commercial real estate lending. Most recently from Bank of the Sierra, she previously spent 15 years as Senior Vice President and Commercial Relationship Manager at First Bank. Hamilton, named Vice President and Portfolio Banker, has over 25 years of commercial and construction lending experience. Also coming from Bank of the Sierra, he previously spent 14 years with First Bank in Santa Barbara as Assistant Vice President and Commercial Operations Manager.
"We are pleased to welcome Bill, Shahla and Deric to the F&M family," said Phil Bond, Executive Vice President, Chief Credit Officer. "They are all highly accomplished banking professionals with a great deal of commercial real estate knowledge."
"Deric and Shahla are both valuable assets for our team," said Nethercott. "Deric's detail-oriented loan operations skills make him a perfect fit for our team, while Shahla's incredible talent and work ethic will benefit Commercial Real Estate professionals and other businesses greatly."
About Farmers & Merchants Bank
Founded in Long Beach in 1907 by C.J. Walker, Farmers & Merchants Bank provides white-glove service to clients at 25 branches from San Clemente to Santa Barbara, as well as through robust Online and Mobile Banking platforms. The Bank offers commercial and small business banking, business loan programs, home loans, and a robust offering of consumer retail banking products, including checking, savings and youth accounts. Farmers & Merchants Bank is a California state-chartered bank with deposits insured by the Federal Deposit Insurance Corporation (Member FDIC) and an Equal Housing Lender. For more information about F&M, please visit the website, www.fmb.com.